Saturday, September 29, 2007
Friday DC Encampment update (Ann Wilcox)
from GPAX:


Friday DC Encampment update (Ann Wilcox)

GPAX Blog from Troops Out Now Encampment (www.troopsoutnow.org)

On FRIDAY, 9/28 folks at the encampment prepared for a major March Against War at Home and Abroad, to be held Sat., 9/29 beginning with a noon rally.

Friday was Student Activism day, with teach-ins and a contingent of about 50 students marching through the streets of Washington, DC, demanding an end to war, justice for Katrina survivors and end to police repression. They made stops at the US Dept. of Education, Dept. of (In)Justice, and the Armed Forces Recruiting Station at 14th and L St, NW. As they "took the streets back," the students gained a considerable escort of MPD police vehicles, however there were no arrests. Marchers continued along Pennsylvania and Constitution Avenues, ending on the Capitol Lawn.

At dusk, TONC campers joined victims of the health-care insurance system and policy-makers at the Lincoln Memorial for the first "Tracy Pierce Memorial Vigil" sponsored by the cast members of the Michael Moore film "Sicko." Donna Edwards and others featured in the film spoke to the group about their family members who died after being denied health care by the insurance industry; they were also joined by members of the California Nurses Assn who are loyal allies in this struggle. Over 75 people attended this moving vigil - the first of many.

Finally, the TONC Encampment rocked out to the sounds of the Philippine music group BAYAN Philippine Alliance. Their music and poetry opposed repressive policies in the Philippines.

Saturday at 11:00 am, all will gather at the Encampment for a rally and March to End the War at Home and Abroad. Join us!!

posted by Stop War @ 10:37 AM


The Troops Out Now Coalition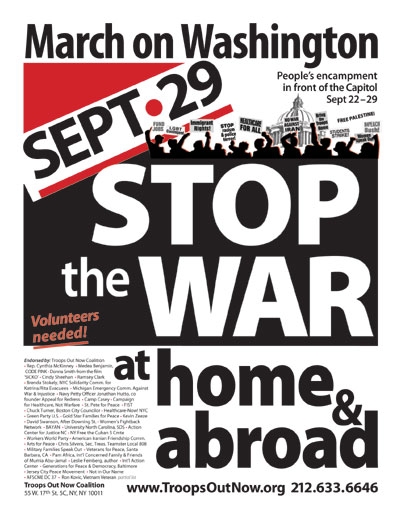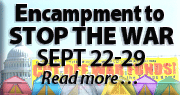 Previous Post
SEPT 22 - 29
It's time to move from Protest to Resistance:
SEPT 22- 29: Encampment in Washington DC & March on the White House

SEPT 29: National March on from the Capitol to the White House


Links
Templates by