Friday, September 14, 2007
'FORTRESS AMERICA' : US embassy in Baghdad
U.S. EMBASSY IN BAGHDAD: 'FORTRESS AMERICA' (http://www.ruvr.ru/main.php?lng=eng&q=16098&cid=87&p=14.09.2007)


Voice of Russia
September 14, 2007
By David Brian


The fortress-like US embassy compound which has just been built inside Baghdad's heavily fortified Green Zone covers 104 acres, making it six times larger than the United Nations compound in New York.

A city within a city for more than 1,000 people, it will have its own water, sewers and electricity, six apartment buildings, a Marine barracks, swimming pool, shops and some walls 15 feet thick.

The massive $592 million facility, built on the banks of the Tigris River, is designed to be entirely self-sufficient, it won't be dependent on Iraq's unreliable public utilities and will cost an annual $1 billion to run.

The sprawling complex — the size of Vatican City — will include two office buildings, one of them designed for future use as a school, six apartment buildings, a gym, a pool, a food court and its own power generation and water-treatment plants.

"Walled off and completely detached from Baghdad, it conveys a devastating message about America's global
outlook,'' historian Jane Loeffler, the author of The Architecture of Diplomacy: Building America's
Embassies and a prominent critic of the new embassy, writes in the September-October issue of Foreign
Policy magazine.

"The embassy in Baghdad is designed to be completely self-sufficient. The American diplomats will have
their own shopping market, movie theater, gym, and dry cleaners,'' Loeffler reports.

"The embassy will be encased by 15-foot-thick blast walls, house a special defense force, and operate its own electrical, sewage, and water treatment plants while the average Baghdad home has electricity only four hours a day.

"There will be no need to interact with Iraqis for anything. This is a strong departure from the wayAmerica's embassies historically have been built," Loeffler says. . . .
Echoing the former British army chief in Iraq, General Mike Jackson, who in a recent interview with The Daily Telegraph attacked the US policy there as 'intellectually bankrupt', Jane Loeffler says the new American embassy in Baghdad fully reflects this
failure.

"The United States has designed an embassy thatconveys no confidence in Iraqis and little hope for their future," Loeffler writes in her article, Fortress America.


Labels: antiwar, Encampment to Stop the War, september 29
posted by Stop War @ 11:25 AM


The Troops Out Now Coalition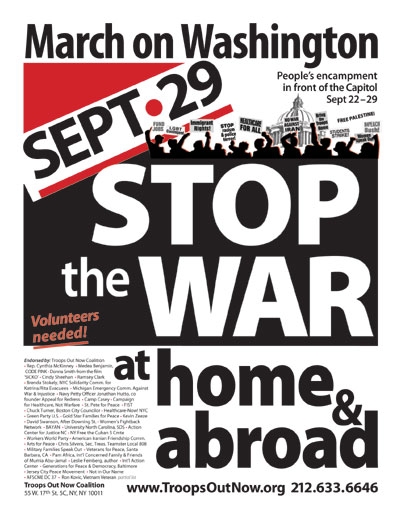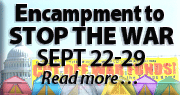 Previous Post
SEPT 22 - 29
It's time to move from Protest to Resistance:
SEPT 22- 29: Encampment in Washington DC & March on the White House

SEPT 29: National March on from the Capitol to the White House


Links
Templates by